Both weekend getaways and longer trips usually have the question of what to bring in the travel  suitcase. We know that space is small, and that we must leave some room for things we buy. But we also have to think everything we want to put on so we do not miss anything. If you do not have much practice doing the travel suitcase and it's something that makes you too lazy, we'll give you a few tips.
Making the suitcase is simple if we have an orderly method. It's a matter of getting organized, so if you follow these steps, the next time you have to pack your travel suitcase, it may be easier. Also, if we do it well we will not forget anything important, so we will have done well.
Top tips to make your travel suitcase efficiently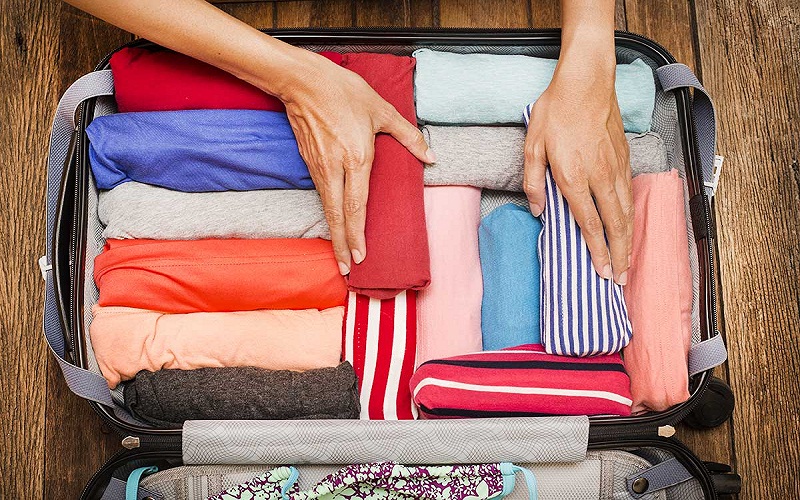 List of cosmetics
We must divide all the things that we are going to carry in different lists, so as not to forget any category. In the case of cosmetics the thing is quite limited. They usually allow carrying bottles of 100 ml at most in transparent bag with self-closing but with a size of 20 × 20 cm. If we do not do this we may have to leave things on the ground or on the way back, it all depends on how strict they are at the airport controls.
This list must therefore be quite reduced, carrying the essential things. Shampoo, conditioner, body wash, moisturizer, toothbrush and toothpaste. If you need something more add it later, when you already have the basics and you can see if you have space left. If you go two people you can share basic things like shampoo and so bring more variety.
List of utensils
In addition to clothes and cosmetics we sometimes carry gadgets or utensils. If we go to countries like the UK we may have to carry adapters for the plugs. Also the dryer, the hair straightened, the mobiles chargers or even an e-book can be those things to take in the list of utensils that we should not forget. Once you make the list you can go checking everything that is already in the travel suitcase.
List of complements
The supplements can go in another separate list. In addition, not all are essential. In the list we must add things like scarves, bikinis or socks and stockings, depending on the weather that we will find. It is always good to check the weather for those days in advance to bring the right clothes. If we have space we can include things like earrings, hats and glasses, or if we need it. As we say this list will depend on the weather.
Clothing list
In this case we will make a list of clothes but what we recommend is that you think about the looks of each day. This makes it easier to get an accurate idea of ​​everything that needs to be carried. That is, we will put a list with day one, day two and day three or whatever, with each look. It is better to choose clothes such as coats and bags that can be worn with all the looks so as not to carry so many things. If we spare space we can take alternative garments if we want to change style or we need more clothes in case they get stained.
Learn how to fold clothes
It is necessary not only to know how to make a perfect list for the suitcase, but also to fold the clothes well. If we bend it well we will occupy much less space in it. In this case we recommend watching videos like the Konmari method, because you can see different ways to fold the garments as much as possible. Be that as it may, we should avoid making balls or putting clothes in any way.
When we have dirty clothes to go back, although we put it in bags it is important to fold it well. As we say, if we make a ball with her, the travel  suitcase will probably go to overflowing. Bending clothes will always save us space.
Make a list of the things you want to carry in your luggage.
Make a list of all the things you want to carry before you start stuffing things inside your suitcase or backpack. One of the best tips on how to pack a travel bag is that when you assemble your luggage, first put all things in sight; In this way you get a general idea of ​​everything you are carrying. Then, go packing your suitcase with the things you want to carry the most or you will need first; so you can see how much space and weight is available for everything else.
Here you have our downloadable list of things you should take on a trip. Delete and add as many as you want! Remember that there is no exact list, it will always depend on you, what you want to do and how you like to travel:  Luggage checklist.
Divide the items between your checked and hand luggage
The most valuable medicines and items such as a computer and camera should be in your carry-on luggage. Inside the tips to make my suitcase that we will give you this is our favorite: it is always good to take a first change of clothes in case your suitcase does not reach its destination; nothing worse than staying only with what you put while you wait for your luggage to arrive. Having a swimsuit to wait while watching the sea while your suitcase arrives is never bad.
Occupy all the spaces of your suitcase
There are different theories about how to distribute clothes inside a suitcase. After many tests we have come to two options are the best:
Store clothes in rolls: This has the advantage of using less space than if you leave the clothes in your conventional way of folding. It also allows garments do not wrinkle on the road.
Stretch clothes in layers: It is the one that has given us the best results if you are short of space. The bad thing is that it can be uncomfortable if then you need to look for something specific … I recommend it for the trip back home; or if you are going to reach a place where you will keep your things in a closet or dresser anyway.
In addition, another tip on how to pack a travel bag is to remember to fill in empty spaces; as in the shoes and other holes that remain when assembling your luggage.