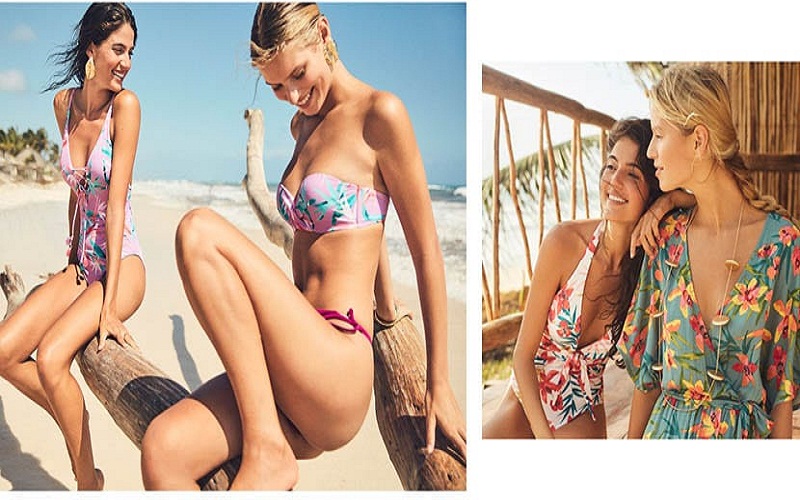 Women' secret proposals for your beach days
About two months ago, Women' secret presented the catalog of their new 2019 bathroom collection, do you remember it? We discovered then the signature trends for this new season.  Among which the tropical prints and the care details stood out.
The new proposals of the firm, which we have been able to discover through two new look books: Life by the sea and Tending Topic, do not move away from those first tendencies. Moreover, they reinforce the swimsuits and bikinis with tropical prints.
Women' secret proposals for your beach days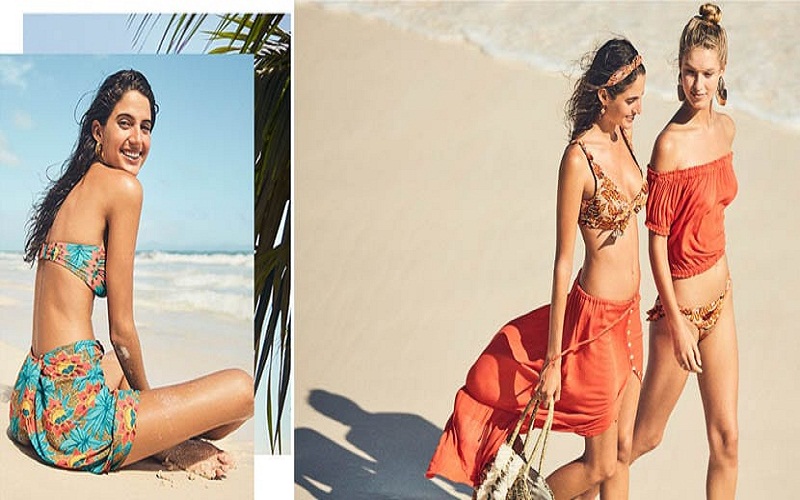 Tropical prints
Colorful prints of tropical inspiration transport us hopelessly to golden sand paradises and crystalline waters. These prints are protagonists of current and varied silhouettes in which necklines are highlighted or knotted, as you can see in the images.
You will not find it difficult to find in this new collection of Women' secret swimsuits or bikinis with tropical prints that fit your silhouette. You can also combine different panties and tops which will allow you to play with textures and colors, to create unique combinations.
Bikinis with shells
The triangular bikinis with shell details are another of the signature proposals for your next beach days. You will find them in warm colors: yellow, orange and red, perfect for a tribal look. Combine the look with one of the signature printed bags and you will achieve a look 10.
Dresses, skirts and tops
To complete our beach look, Women' secret also offers dresses, jumpsuits, skirts and tops in lightweight fabrics. Long skirts with a ruffle in bright colors are one of the trends of this summer. Combine them with a matching top like the one on the cover and do not forget to add raffia accessories to your look. Hats and bags in this material never go out of style in summer.
Beach dress code
Every season the beaches are the perfect catwalk to distill glamour. Nobody is encouraged to step on the sand without at least having meticulously thought about each element of the look.
This 2019, the proposal is even bolder, invaded by models, actresses, and influencers, the east coast renews its outfits, leaving behind shorts, tops, or classic pares to welcome sophisticated pieces. Consulted, fashion experts indicate how to dress to respect the beach dress code.
Battas, camisoles and kimonos they are the essential infallible invaded each parador from La Mansa to Laguna Garzon. Long sleeves or short, wide, smooth or printed look up to the floor half covering the swimsuit. Details that add, tassels and fringes embroidered.
The famous robes charge a more exquisite version in genres such as linen or fringed lace are all terrain and do not need to be complemented.
The whole bathing suits are the new summer fetish garment. Since last year they conquered the heat season competing hand in hand with the mythical two-piece bikinis.
White and metallic are the two keys to show them off. The designer Romina Cardillo, creator of the firm Nous Studios, explains that "today the swimsuits are intact, without prints, the color chart is strong as fuchsia, orange or lilac. They are less dug but lower cut with designs in the back.
There is no beach without hats in Punta del Este, an accessory that wins more and more adepts and in the Uruguayan coasts are appreciated in more than one version. "Beyond its use to protect from the effects of the sun they give presence and personality to any outfit", highlighted the hatter Lara Grinberg.
They are synonymous with elegance. The cowboy style of wings upturned in jute with details in leather tape and sheet metal elements emulating western fashion with a sophisticated twist that adapts to sun exposure, explained Grimberg.
Wicker baskets. Far from traditional, they are inspired by Mediterranean fashion. If the idea is to impact, the round ones with embroidered phrases lift any look, as Sister Solnicki designs them.
Another trendy design are rectangular shaped with long handles so that even more exclusive are personalized with the initials of each. A piece that complements perfectly with the wide camisoles and jute hats.
Sun glasses. Forbidden to step on the beach without them, they are taken until sunset, it does not matter if the sun is already hidden must to provide the final touch of style. This 2019, the luxury brands are the most chosen ones like those of Dolce & Gabbana, Gucci or the Mykita boutique, cat eye, round, square, mirrored, it is suggested to take two to exchange during the day.
In the feet, the acclaimed mules complement the glamor. Closed or open in front but always showing the heel nothing exceeds the comfort. For Benito, metal is the right choice, "dressed in white or with a colorful look, they communicate perfectly.
Rounded canvases. The conventional pareos do not appear on the Uruguayan coasts, more and more fashionable boutiques have their line for open air. When resting in the sun, the mandalas, colorful or astrological prints merge with the sand.
5 secret beaches in Gran Canaria
When you were preparing your trip to Gran Canaria. You flipped with the photos you saw on the Internet about its beaches. Maspalomas, Playa del Ingles or las Canteras … Do they sound like something?
You have seen photos of great beaches with a huge piece of sun, crystal clear waters with fish. Sand dunes, breathtaking sunsets … So all this, makes you fly with the imagination coming to feel the sea salt or water among your daimyos.
In general, the most famous beaches are usually the busiest. It does not mean that they are bad, but leave forgetting your romantic walk along the shore without seeing anyone and listening to the silence and the waves of the sea.
Depending on the season, you will have to fight to get a free place. In addition, you will surely have to endure the conversations and noises of those around you. You will also be seated next to that group of young people, with trendy reggaeton music on their mobile phones. Some balonazo will take you from the child of the ball. And of course forget about getting dark because with so many umbrellas attached. You will be unlikely to catch some sun.