February in the UK is often a month where bad weather reigns, and this year is no different! In previous Februarys we have seen the likes of the beast from the east, as well as storm Dennis. This year we had not one but three storms, coming one after the other – Storm Dylan was swiftly followed by Storm Eunice, and then Storm Franklin arrived quickly after that.
With strong winds and heavy rain, widespread flooding and damage were something that was seen all over the UK. As roads flooded, trees were pulled up by the roots and many people were left with no electricity or communication lines as cables were ripped down by the strong winds.
After the storms like these, thoughts then turn to clearing up. Many homes all over the UK will have been affected to varying degrees by this wild weather, so once the storm has passed, getting things cleaned up is the priority.
The garden is likely to be the hardest hit place. If there is a lot of work to be done and rubbish to be cleared, it is a good idea before you start to arrange for a skip to be delivered to you from somewhere like this Carmarthen skip hire company pendragonskiphire.co.uk/carmarthen-skip-hire/
One of the common casualties of a storm are trees. If you have trees in your garden that have been taken down or damaged in the storm it is best to get a qualified tree surgeon to come out and deal with it, as trying to do it yourself could be very dangerous.
Sheds, fences and greenhouses are also common casualties of these types of storm. Although you can do your best to ensure that they are safe and secure before the storm comes, the power of the wind can be a force to be reckoned with and they still may end up sustaining damage. Many sheds will be moved entirely, and some may be damaged and lose the roof. These things may be possible to repair yourself depending on how bad the damage is.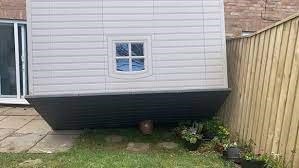 Fences too can be repaired; you can find some online guides if you want to do it yourself.
Most people find that after a storm they often have a lot of debris in the garden. This may have blown in from elsewhere, or it may be stuff that has always been in the garden but has been moved by the strong winds. Sort this out and get rid of anything dangerous or broken. If you find roof tiles that have come down from your roof, it is a good idea that you get a roofer to assess your roof and check for further damage, as left unrepaired this can lead to a lot of roof problems in the future.