Style magazines around the world pay homage to Scandinavian interior design, with the native concept of hygge entering our culture. Simple, minimalistic and functional, this design movement which started in the 1950s leads the way in understated elegance. Here are some tips for bringing the look into your house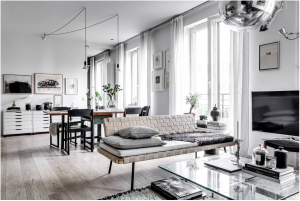 Lighting Matters
Scandinavian lighting design takes into account the short winter days. Illumination is a life source during the hours of darkness, while interiors move beyond the functional by embracing aesthetic mood-building lighting. Generally modern and reminiscent of industrial styles, these lights vary from pendants – such as Louis Weisdorf's iconic Danish Design pendant lamp – to sconces on walls. Candle light is also important, adding a glow and quirky charm. Votives are to be found in cafes at all times, while homes boast lit candelabras on window sills and dining tables.
Function and Style
Clean lines rule when it comes to furniture. Tables, sofas and chairs exemplify mid-century modern leanings with natural hues and smooth rounded edges. When it comes to interiors, Scandinavian style takes pride in functional design that is also innovative.
Saving space is important when installing wall shelving, which creates practical storage and adds visual interest.
If you are looking for a help to buy repayment to finance the project Sam Conveyancing provides solutions.
Pale Flooring
Wall-to-wall carpeting does not go with Scandinavian design principles. Flooring is generally hardwood, painted white or left in its natural hue. This gives an impression of space and light. For winter, residential bathrooms may have heated tiles to keep you warm underfoot.
The importance of Plants
Scandinavian interior design incorporates elements of natural beauty and living colour. Copenhagen residents believe that fresh flowers are a necessity – not a luxury. To feed this need, pavement florists sell bouquets, tulips of all colours, succulents and more.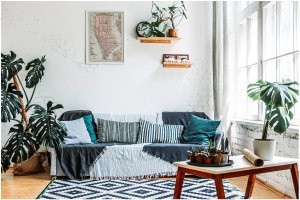 Neutral Colours
The colour palette of Scandinavian designs is muted. Blends of greys, whites, blacks and browns are utilised to create a calming, clean look. Designers also employ pops of colour such as accents of sea greens and dusty pinks. Usually, Scandinavian walls are white to forefront the furniture and wall art.